Frequently Asked Questions
We love questions so much
we save them here!
We may have the question already answered below,
but if we don't, please ask away! We are happy to help.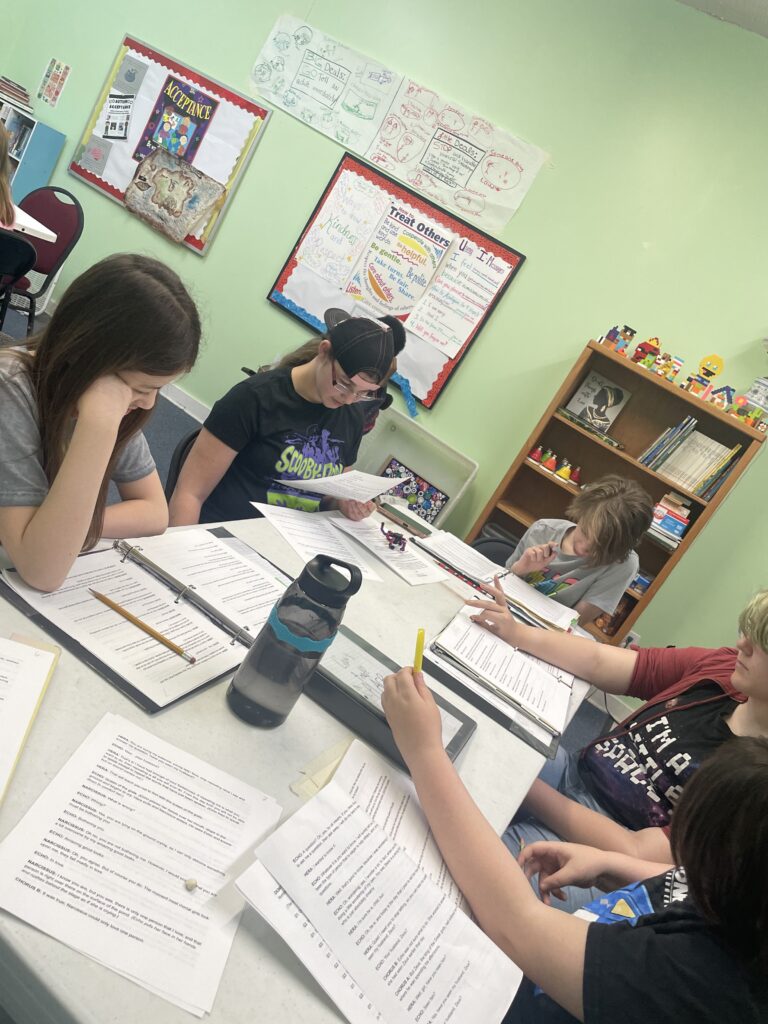 We teach all school ages, 3rd-12th grade. At our school, students of differing ages and grade levels work together throughout the day.
Teacher-student ratio is currently 10:1, with an assistant in the room as well (so, adult – child ratio is 5:1)
Adult-child ratio will never be more than 10:1, and Teacher-student ratio will never be more than 15:1.
Younger students have much to learn from older ones, and vice versa!
Younger students learn more maturity from older students.
Older students solidify and strengthen their knowledge of a topic when they help teach it to younger students.
Older students learn how to be patient and compassionate when younger students exhibit less mature behaviors
Differences of age and experience add to the diversity of the classroom, and all learn from each other
Age diversity is more reflective of the environments children will be in "in real life" when they are older and enter the work force
Working with different age groups and abilities fosters more dynamic cooperative skills
The class feels more like a family ("we learn from and listen to each other, we're all in this together"), than a factory floor ("we are all puny underlings who have to produce according to the boss's standards")
Ms. Sarah, our only current teacher, has a Bachelor's degree in Theatre and Education. She obtained her Theatre EC-12 teaching certificate in 2018. She has 6 years of formal teaching experience, and about 20 years of informal experience – as well as 24 years of theatrical experience. She is currently working towards a Master's of Interdisciplinary Studies in Arts Entrepreneurship.
Any future teachers hired will be hired for their experiences and knowledge of child development, their personal philosophy of education, and their willingness to learn!

We believe that all education should be specialized, and so we tailor our curriculum to each student's needs, interests, and current knowledge level. For this reason, we do not use any pre-packaged curriculum options; we write our own curricula and learning goals.
The curricula and individual lesson plans that we write are guided by the TEKS (Texas Essential Knowledge and Skills), which is an extensive list of all the standards that the state of Texas tests for in each subject and grade level. However, we believe that no child is "standard." Therefore, we do not require any standardized testing for our students. Instead, we work with the kids to set individual learning goals, and celebrate with them when those goals are met!
Luff's motto when it comes to discipline is: "Seek to Understand." Instead of punitive measures for students who break our expectations, we seek to understand underlying causes and motivations of "problem" behaviors, which are themselves a form of communication. Once identified, we can then help the student make better decisions that will actually benefit them rather than disrupting the education of others.
Mindfulness, compassion, and social-emotional learning are vital to the development of these decision-making skills. Our technique for doing this is based on Dr. Robert Greene's Collaborative and Proactive Solutions (CPS) method. More information about Dr. Greene and his work can be found at https://livesinthebalance.org.
Luff has no specific dress code. We only ask that all teachers and students completely cover their torsos and pelvic regions in class.
That said, it may be wise to dress your child in something that they can move freely in, and that you don't mind them getting dirty. We are very active, and we like to learn and play in comfort around here!
Our school day runs from 9:30 am to 3:30 pm.
Every day, the students begin with a "Morning Meeting." We have a quick greeting and discussion, talk about any news in our lives, etc.
Our next activity is math. During this time, Ms. Sarah spends dedicated time with each student individually while the others practice the skills she taught them the last time they worked with her.
After math, we have lunch (during which we often engage in "Socrates Cafe," a mode of philosophical discussion that uses questioning to enhance logic and reasoning skills) and then recess.
From there, we head into ELA class. During ELA, our class is split into two age groups. One group works independently on a reading or writing assignment, and the other works with Ms. Sarah on a lesson. Then, the two groups switch out.
After ELA, we engage the students in either a Science or History lesson related to the play we are currently working on in our Fine Arts Friday classes. We do experiments, play educational games, and create artworks based on what we've learned!
Lastly, we enter our "closing time" procedure. We clean up the classroom together and then join our circle that we sat in that morning. In our circle, each person tells one thing they learned that day and one thing they're grateful for. If there's time, we play one more game before parents start coming in to pick the kiddos up!
Luff has not yet sponsored any field trips, but we hope to start putting some together this school year. As of right now we have no school buses, so if and when we begin planning field trips, we will be asking for parent volunteers to help with carpooling!
The most important thing that parents can do is to ensure that their children are attempting to finish their homework before coming back to class. Ms. Sarah teaches the kids new information as well as how to do their related assignments, but we don't have enough time in the class day to work on it all — so they will be bringing assignments home for practice!
It also doesn't hurt for parents to familiarize themselves with topics that their students are learning as much as they can, in case their child needs help. It is really imperative that parents ensure that their students' work is getting done at home to ensure that they are making progress, and that we can move on to the next topic when they come back to class.
Students should be able to complete all of their at-home assignments with no more than an hour's focused work each day.
Not at all! Students can complete their sent-home assignments on their own time, whenever it's most convenient.
Send Ms. Sarah a text message, and we'll set up a call if needed.
Kids get sick, we know! If your student will be absent due to illness, please text Ms. Sarah as soon as possible to let her know. For longer or planned absences, please notify Ms. Sarah at least a few weeks in advance. Attendance becomes more and more important as we get closer to our show dates, so if possible, please schedule family vacations during Luff's pre-scheduled breaks!
No; Luff's school year runs year-round, with ten weeks of scheduled breaks. Click here to view our academic calendar and see our scheduled breaks.
We do not. Instead, we work toward each students' specific learning goals, at that student's pace.
Not at this time. Luff has not yet implemented a grading system. If, in the future, we find (or design) one that is equitable, inclusive, and helpful, we may do so.
We do not do transcripts at this time; at least, not in the traditional sense. However, we do keep records of academic progress, which we go over with parents when we meet with them.
Students are given written feedback on their assignments. If they get any problems incorrect, Ms. Sarah goes over their mistakes with them so that they may learn from them.
Yes! Each sibling is 10 percent off, and this discount is stackable.
Luff Learning leases space inside Plymouth United Church for our classes, but is a completely separate entity from the church. It is a great space that provides everything a private school needs. All of our programs are (and will always be) completely secular. This Universalist Christian church has an open and affirming LGBT+ friendly congregation with progressive values.